Dear Parishioners,
Praised be Jesus Christ!
Our Lord has continued to bless our parish, even as it seems that we face new challenges, every day. I want to assure all of you that we will do our best to keep everyone safe and healthy, during the upcoming Advent and Christmas seasons. We have been very careful to keep our seating at Holy Mass, and presentations in the Hall, in accord with good, social distancing practices. We are using recommended disinfectants that kill the Covid Virus, and at the recommendation of Physicians and the CDC, we will be monitoring temperatures at the church entrances with instant-read thermometers. I am thankful to everyone for your continuing cooperation with wearing masks. Together, let's see if we can beat Covid, and send it back to Hades where it belongs.
We have begun decorating for Christmas, early this year. Many have expressed the sentiment, in the words of an old song, "We need a little Christmas, right now!" Outside, we have a new, lighted Christmas Tree, and we will be decorating our Church throughout Advent. Reminder: Our Religious Education, Advent Program on the Holy Family will be held on Sundays, right after the 10:30 Mass. I hope to see you there.
Thanksgiving Masses will be Wednesday Eve at 6, and Thanksgiving Day at 8.
Christmas Masses will be Thursday at 5 and 6:30 p.m., and Friday at 9 a.m.
Please remember that our seating will be limited to the first 80 people to arrive. We will be following all the health guidelines, as mentioned above.
I hope you will have a wonderful Advent and Christmas Season.
Yours in the Lord Jesus,
Father David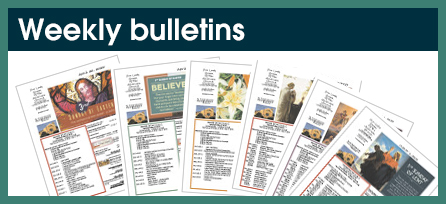 Mass Times
Daily
M-Noon, T-8 a.m., W-6 p.m., T-8 a.m., F-Noon. Limited to 20 persons.
Saturday
5 p.m., Limited to 80 persons
Sunday
8, 10:30 a.m., Limited to 80 persons
Confessions
Phone the parish office at 814-382-7252 to make an appointment
Holy Day
Same as weekdays